Join hundreds of beer, wine and spirits distributors that are using PermaTrak® to better manage permanent POS fulfillment and improve ROI!
Inadequate management of permanent POS inventory (neons, tap handles, display racks, etc.) costs distributors real money. As POS costs have risen to be most beverage-alcohol distributors' second largest expense - behind payroll - cutting waste means growing the bottom line.

Limited Time Offer Only:
Schedule a demo before February 15 to get 3 months of PermaTrak on us!*



*Offer applies to new customers signing a one-year contract


PermaTrak® Overview
PermaTrak® helps manage permanent POS inventory (display racks, neon signs, tap handles, etc.) throughout its entire "life cycle". From its arrival at your warehouse, until it goes on display in your account. PermaTrak creates a real-time photo catalog for the sales team; tracks POS location, costs and retail value; and assists with compliance to local regulations.
By accurately tracking inventory and status, PermaTrak® allows you to avoid carrying expired POS in your warehouse, streamline and manage its allocation to your accounts, and even gauge sales performance at specific locations to better understand what works and where. With a better picture of how these marketing assets work within your business, you can create new sales plans or alter existing ones to optimize the ROI you receive from this important investment.
Leading beverage alcohol distributors choose PermaTrak® Software because our digital tool gives them the capability to:
Lower POS tracking and marketing costs

Control permanent POS inventories

Speed POS time-to-market and beat the competition

Easily analyze and report on POS activity
PermaTrak® has been updated with new features and capabilities for 2019 and beyond
PermaTrak® is now even more powerful. From a new, easy-to-understand shopping cart for placing POS orders, to its mobile-friendly layout for tablets and smartphones and a state-of-the-art graphical reporting interface, PermaTrak® is the most complete tool available in the marketplace to help distributors stay on top of all aspects of their permanent POS program.
Placing an order for permanent POS is now as easy as shopping online. Scroll through a catalog of all POS items available in your warehouse, filter by Brand, POS Type, Supplier, and more. Select the items you want, and click "Add to Cart". That's all there is to it.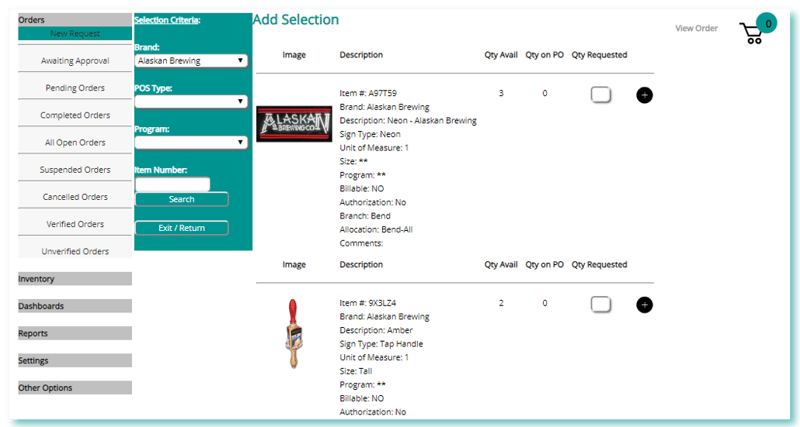 Need to see the POS inventory in your warehouse? Need to transfer items from one warehouse location to another? Need to add stock, or write-off broken items? It is all easily accomplished from one screen.

Knowledge is power. And in today's business climate, having access to up-to-the-minute data about your operation is critical. PermaTrak offers a state-of-the-art graphical reporting interface that allows you to visually see your permanent POS from multiple angles. See all of your your POS inventory at a glance; click on any bar to get the details; and "drill down" to break out the data into its most useable form. All the information you need to manage and grow your business right at your fingertips.