Join hundreds of beer distributors that are using SignTrak® to better manage printed POS fulfillment, eliminate waste and improve ROI!
Sign ordering errors and inadequate management oversight cost distributors real money. As POS costs have risen to be most beverage-alcohol distributors' second largest expense - behind payroll - cutting waste means growing the bottom line.

Limited Time Offer Only:
Schedule a demo before March 29 to get 3 months of SignTrak on us!*



*Offer applies to new customers signing a one-year contract


SignTrak® Overview
SignTrak® is designed to take the guesswork out of POS marketing to help you improve your ROI by giving you the information you need to develop more effective promotions - all the way from ordering to deployment. SignTrak streamlines the ordering and production processes by coordinating your needs with print shop resources and gives you greater insight with detailed reports on sales and location performance. Once you see how your POS efforts really work—or don't—you can change them accordingly to keep your business growing.
From initial order, to production and final display, SignTrak® logs vital information and provides a single point of control for everything associated with the process.
SignTrak® helps distributors address their biggest custom POS challenges:
1.) Rising POS Costs. Ink, paper, laminate, labor, and more go into the cost of making a sign. As those costs rise, potential profit falls. SignTrak allows your sign shop and management team to keep a close eye on costs, and lower those costs when possible. With SignTrak, you can submit high-cost sign requests for management approval, measure POS spending against product sales by account, and analyze POS placements versus revenue generated to make better-informed POS decisions. SignTrak makes it easy.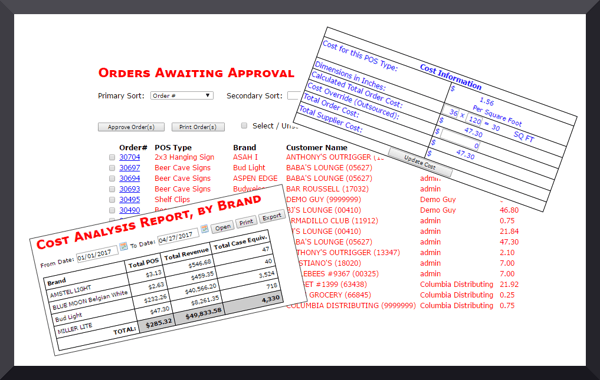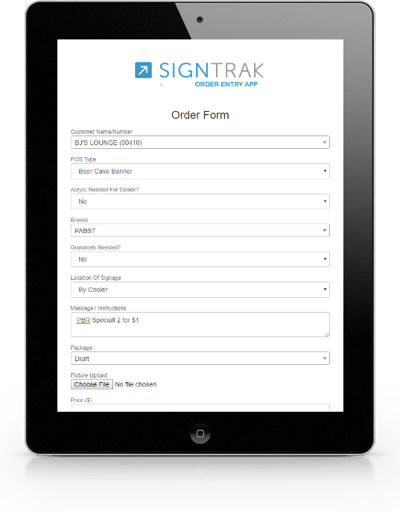 2.) Errors and reworks. Incomplete and incorrect orders from the sales team cause the sign shop to remake signs and trash the original. That means lost time and materials. SignTrak is designed to ensure sign orders are filled out completely the first time (incomplete orders cannot be submitted). The ability to add pictures or graphic templates to the order also enhances the sign shop's understanding of what is desired for the sign. The result: Less back-and-forth communication between the sales rep and the sign shop, and each sign is printed ONCE.
3.) Missed bill-back recovery. Bill-back agreements are an important part of the Supplier-Distributor partnership. Both sides benefit when POS marketing activity is tracked accurately. SignTrak's automated cost tracking and detailed reports allow you to document and claim all available bill-back allowances you are entitled to from your supplier agreements.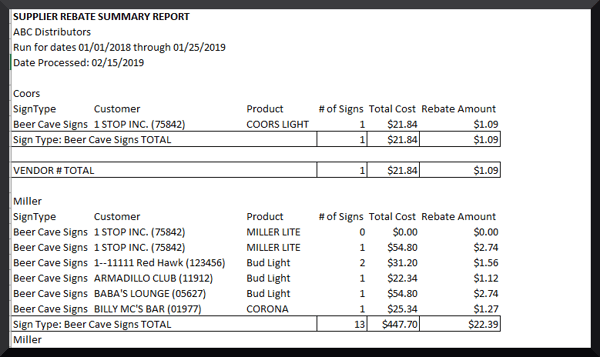 Click Below to Download a Free Case Study on Why Our Customers Trust SignTrak®